Gairloch High School now on Facebook – the school has now got a page to flag up news items and other details posted on the school website. The website will remain the main focus but those who use Facebook regularly can keep up to date. Search for Gairloch High School or click here and LIKE us!
Junior Maths Challenge – A few weeks ago S1 and S2 took part in the UKMT Junior Maths Challenge.  Well done to Iain Nelson who got "Best in School" and a silver certificate and to Gregor Vickerstaff who also got a silver certificate.  The following pupils all got bronze certificates: – Leonie Baptist, Eilidh MacDonald, Connor Forbes, Hannah Wood, Carys Townsend and Scarlet Pickering who was also best in S1.  Well done to everyone who took part.
S1 Cairngorm Trip – S1 returned recently from the S1 residential previously known as Nethybridge. Based in the very well appointed Kincraig Christian Centre, S1 pupils and several staff had an exciting week of activities that included mountain biking, rock climbing, mountain and forest walking expeditions, orienteering and evening games. We are grateful to all the staff whose additional skills and qualifications make this event possible every year but particularly to Dr Caley who makes sure everything is organised in advance and goes to plan throughout the week. There are lots of photos on the website similar to the one above which shows S1 pupils at Loch Morlich after an evening barbeque and water sports.  Click on the photo below to access lots more images on the school website.
First Aid – Pupils in S3 undertook a one-day First Aid course with Mr Cory Jones of Outdoor First Aid. For those involved with the Duke of Edinburgh's Award, this provided training for their forthcoming expedition. For all, it provided them with the ability to cope with emergencies, extending the work done previously with on basic life-saving first aid. We thank Mr Jones for running this course again.
'The Apprentice' – S3 pupils were involved in an event similar to the BBC programme 'The Apprentice'. They spent two days working in teams to design a household item valued under £100. Their products were then presented to the rest of the school. Pupils had opportunity to quiz the groups on the merits of their products. A panel of teachers judged the items deciding on the one that they would most likely invest in. The winning team came up with a sophisticated chopping board. Though not in the winning team, Alasdair MacDonald was judged the best team leader.
Plockton v Gairloch S1-S3 Football – In 1991-92 the Gairloch-Plockton football trophy disappeared. Recently found in Plockton, staff felt that the annual fixture should be re-instated. The Gairloch boys won convincingly the second match 6-0 on Friday 23rd May and were presented the trophy by Mr Port. Thanks to Mr Cumming for his work with the team and our hope is that with continued victories, the trophy will remain in Gairloch for many years to come!  Read more here and see some photos of the successful team.
S3 Cake Bake Competition – On the same week as 'The Apprentice', Mrs Johnston organised a baking competition for S3. Much fun appeared to have been had and you can see photos of the cakes on the school website. The staff judged the results. Much cake was eaten!  Click on the photo below to see more images.
Lord of the Flies – On Thursday 29th May a coach of staff and pupils travelled through to Eden Court to see S2 pupil, Sean Quinn take part in the musical adaption of Lord of the Flies. Sean is working alongside other young people but training with professional dancers.
Cinders in German – On Thursday and Friday 8th and 9th May it was pantomime season at the High School as the S2 German class performed their very own version of Cinderella, written all by themselves – in German, of course! Starring Leonie Baptist as Aschenputtel (that's Cinders to you and me!), Gregor Vickerstaff and Lewis Brady as the Ugly Sisters as you've never seen them before, and Caitlin Mitchell as a rather glamorous Wicked Stepmother, along with some great support acts and Roddy MacRae as a Very Useful Person, this was a performance not to be missed. If you were unlucky though, there are two video versions: the 'silent' one, performed in rather trying conditions with an exam in an adjacent room, and the 'noisy' version complete with boos, hisses and the occasional wolf whistle. Seriously though, it was greatly enjoyed, even by those who claimed they couldn't understand a word and it was a wonderful way for S2 to finish their German course.
Primary 7 pupils visit High School – Primary 7 pupils from our associated Primary Schools visited for 2 Icebreaker Days. On Thursday 22nd May the pupils had a familiarisation event followed by some science work. On Friday 23rd May they had sessions in Art, Music and PE. Three of the older pupils trained recently on the YDance Leadership week put their new skills to work during the PE session. Annie Maclennan, Leonie Baptist and Hannah Wood organised and led a dance session with the assistance of Mrs Hildrey.
In June P7 pupils will return for two days of normal timetabled classes in further preparation for August.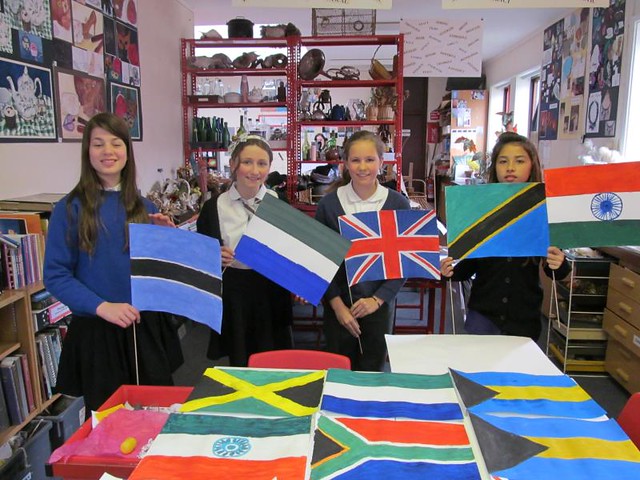 Click on the photo to see more images from the day.